cou·ra·geous /kəˈrājəs/ adjective: not deterred by danger or pain; brave.

hus·tler /ˈhəslər/ noun: an aggressively enterprising person; a go-getter.
Welcome
This show features courageous hustlers who have overcome adversity and achieved massive success by being brave and unstoppable. Courageous Hustler is a mindset-focused open conversation Podcast.

Our mission is to empower you to recognize that you can become everything you ever dreamed impossible in your life. Embrace and embody the courageous hustler in you. In this community fear does not stop our purpose, we just learn how to walk with it.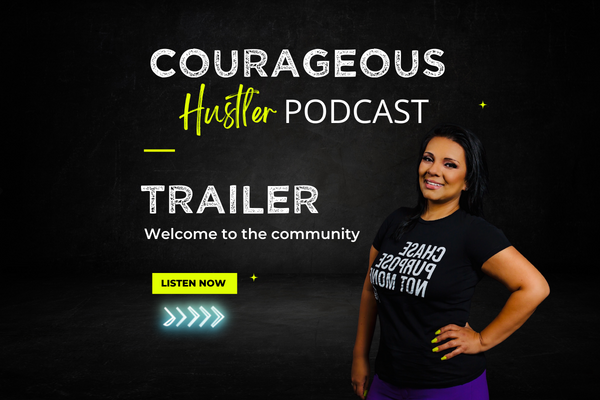 ---
SUBSCRIBE TO THE COURAGEOUS HUSTLER PODCAST ON YOUR FAVORITE PODCAST PLATFORM:
Apple: https://podcasts.apple.com/us/podcast/courageous-hustler-podcast/id1632968518
Podcast Addict: https://podcastaddict.com/podcast/4020878
Stitcher: https://www.stitcher.com/podcast/courageous-hustler-podcast
Listen Notes: https://www.listennotes.com/podcasts/courageous-hustler-podcast-sandra-ocasio-QB86bVxU1wa/
Podbean: https://courageoushustler.podbean.com/
iHeartRadio: https://www.iheart.com/podcast/338-courageous-hustler-podcast-99050230/
TuneIn: https://tunein.com/radio/Courageous-Hustler-Podcast-p1702419/
Amazon Music/Audible: https://music.amazon.com/podcasts/2a1d1177-cd11-4e2e-8480-564d6f03ddff
Deezer. Podcasters: https://deezer.com/show/3852427
FOLLOW US ON SOCIAL MEDIA:
Instagram: https://www.instagram.com/courageoushustler/
Twitter: https://twitter.com/hustler_podcast
Facebook Page: https://www.facebook.com/CourageousHustler
YouTube: https://www.youtube.com/channel/UC-elYGDBciQqSiFpxn2R_Jw