cou·ra·geous /kəˈrājəs/ adjective: not deterred by danger or pain; brave.

hus·tler /ˈhəslər/ noun: an aggressively enterprising person; a go-getter.
In this episode:
I'll be sharing one of my biggest fears. I have been challenging myself more and more to do more public speaking.
This year I took Command The Stage with Patrice Washington. If you are considering becoming a transformational speaker I highly recommend this program.

And because of her and this program, I have been able to step into this new lane of not being so scared to tell my story.
I use to carry so much shame around telling my story out of fear that people would judge me for it. And the truth is once I was able to understand that there is a way you can deliver your story in a manner that will serve people was the most freeing thing ever. I share my story now in hopes to help others. I share to give others permission to do the same for themselves.
In this episode, I share my STEP UP Method
S: Self-Awareness & Self-Discipline
T: Therapy for the trauma
E: Expand Your Mindset
P: Personal Development
U: Upgrade Your Vision
P: Pursue Purpose with Unshakable Passion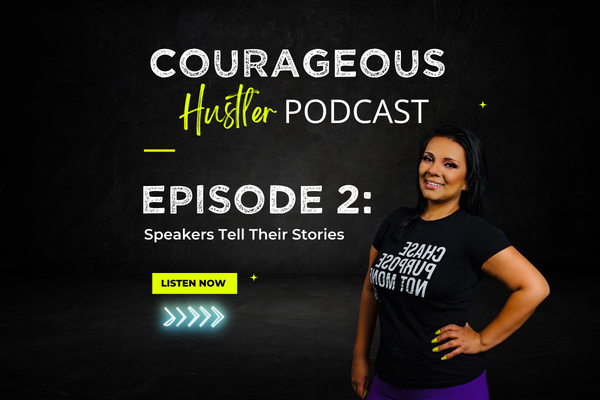 ---
SUBSCRIBE TO THE COURAGEOUS HUSTLER PODCAST ON YOUR FAVORITE PODCAST PLATFORM:
Apple: https://podcasts.apple.com/us/podcast/courageous-hustler-podcast/id1632968518
Podcast Addict: https://podcastaddict.com/podcast/4020878
Stitcher: https://www.stitcher.com/podcast/courageous-hustler-podcast
Listen Notes: https://www.listennotes.com/podcasts/courageous-hustler-podcast-sandra-ocasio-QB86bVxU1wa/
Podbean: https://courageoushustler.podbean.com/
iHeartRadio: https://www.iheart.com/podcast/338-courageous-hustler-podcast-99050230/
TuneIn: https://tunein.com/radio/Courageous-Hustler-Podcast-p1702419/
Amazon Music/Audible: https://music.amazon.com/podcasts/2a1d1177-cd11-4e2e-8480-564d6f03ddff
Deezer. Podcasters: https://deezer.com/show/3852427
FOLLOW US ON SOCIAL MEDIA:
Instagram: https://www.instagram.com/courageoushustler/
Twitter: https://twitter.com/hustler_podcast
Facebook Page: https://www.facebook.com/CourageousHustler
YouTube: https://www.youtube.com/channel/UC-elYGDBciQqSiFpxn2R_Jw