cou·ra·geous /kəˈrājəs/ adjective: not deterred by danger or pain; brave.

hus·tler /ˈhəslər/ noun: an aggressively enterprising person; a go-getter.
In Today's Episode:
In today's episode I had the honor of sitting with Pastor Courage Molina:
Pastor Courage is a Faith Coach and everyone's favorite Bible Teacher!
She believes the foundation of becoming your most bold, confident, and courageous self is in the daily habit of studying and applying the word of God to your life!
As we continue our step 1 in the STEP UP Method, Pastor Courage Molina and I had a great conversation on self-awareness. One of my favorite and biggest takeaways from today's episode was when she said "You don't need to audition for the specific purpose God has created for you"
I hope this episode encourages you to ask yourself more questions. Don't ever stop discovering and uncovering who you are.
Remember that someone else's lies do not need to become your belief. We have been conditioned since childhood to think a certain way, act a certain way, be a certain way. And that has truly diluted who we are truly supposed to be on this earth.
Tell me what your biggest takeaway from today's episode is.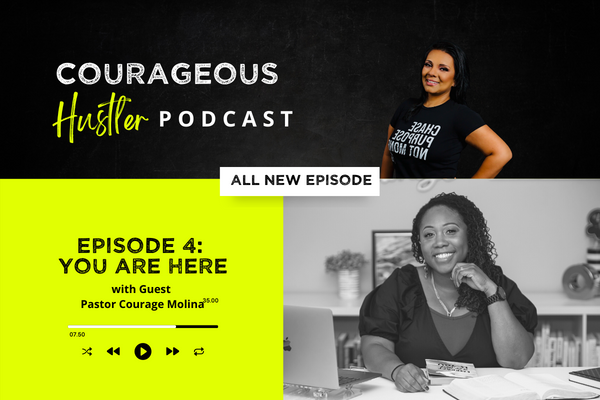 ---
Make sure you check out Pastor Courage:
Retreat Website: bit.ly/FaithIgnitedRetreat2022
Church Website: www.boldfaithchurch.org
IG: @boldfaithchurch IG: @couragemolina Make sure you go and show her some love! Tag her on IG
SUBSCRIBE TO THE COURAGEOUS HUSTLER PODCAST ON YOUR FAVORITE PODCAST PLATFORM:
Apple: https://podcasts.apple.com/us/podcast/courageous-hustler-podcast/id1632968518
Podcast Addict: https://podcastaddict.com/podcast/4020878
Stitcher: https://www.stitcher.com/podcast/courageous-hustler-podcast
Listen Notes: https://www.listennotes.com/podcasts/courageous-hustler-podcast-sandra-ocasio-QB86bVxU1wa/
Podbean: https://courageoushustler.podbean.com/
iHeartRadio: https://www.iheart.com/podcast/338-courageous-hustler-podcast-99050230/
TuneIn: https://tunein.com/radio/Courageous-Hustler-Podcast-p1702419/
Amazon Music/Audible: https://music.amazon.com/podcasts/2a1d1177-cd11-4e2e-8480-564d6f03ddff
Deezer. Podcasters: https://deezer.com/show/3852427
FOLLOW US ON SOCIAL MEDIA:
Instagram: https://www.instagram.com/courageoushustler/
Twitter: https://twitter.com/hustler_podcast
Facebook Page: https://www.facebook.com/CourageousHustler
YouTube: https://www.youtube.com/channel/UC-elYGDBciQqSiFpxn2R_Jw
I do own rights to this music