cou·ra·geous /kəˈrājəs/ adjective: not deterred by danger or pain; brave.

hus·tler /ˈhəslər/ noun: an aggressively enterprising person; a go-getter.
In this solo episode:
The main thing that I want to convey is don't be afraid to ask for the support that you need to get you through a Quantum Leap Seasons.

We often think that we need be the strong friend, mom, spouse, partner, coach, but there will be seasons that some roles may take a hit. This is where you need to lean into and ask for the support that you need. And be ok with it. Don't tell yourself stories that will not serve the bigger purpose which is elevate to the next level of you.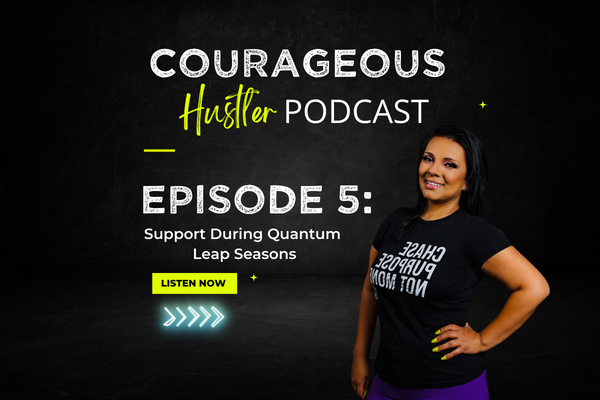 ---
SUBSCRIBE TO THE COURAGEOUS HUSTLER PODCAST ON YOUR FAVORITE PODCAST PLATFORM:
Apple: https://podcasts.apple.com/us/podcast/courageous-hustler-podcast/id1632968518
Podcast Addict: https://podcastaddict.com/podcast/4020878
Stitcher: https://www.stitcher.com/podcast/courageous-hustler-podcast
Listen Notes: https://www.listennotes.com/podcasts/courageous-hustler-podcast-sandra-ocasio-QB86bVxU1wa/
Podbean: https://courageoushustler.podbean.com/
iHeartRadio: https://www.iheart.com/podcast/338-courageous-hustler-podcast-99050230/
TuneIn: https://tunein.com/radio/Courageous-Hustler-Podcast-p1702419/
Amazon Music/Audible: https://music.amazon.com/podcasts/2a1d1177-cd11-4e2e-8480-564d6f03ddff
Deezer. Podcasters: https://deezer.com/show/3852427
FOLLOW US ON SOCIAL MEDIA:
Instagram: https://www.instagram.com/courageoushustler/
Twitter: https://twitter.com/hustler_podcast
Facebook Page: https://www.facebook.com/CourageousHustler
YouTube: https://www.youtube.com/channel/UC-elYGDBciQqSiFpxn2R_Jw
I do own the rights to this music