cou·ra·geous /kəˈrājəs/ adjective: not deterred by danger or pain; brave.

hus·tler /ˈhəslər/ noun: an aggressively enterprising person; a go-getter.
In this solo episode:

I share experiencing a shift that has required for me to go back to my fundamental process in this new season. And for me it was really revisiting my step up method.
I had to go back to the basics things I know worked for me before to help me overcome some of things that are coming up for me in this new season.
So today I ask you this question for your consideration, what fundamental routes do you need to revisit to get you back on track?
The days of being busy and booked are no longer cute. Being healthy and sane is far more valuable to me. And therefore I share this as a reminder that even when you need to go back to the simple steps, it's ok to give yourself permission to do so. The beautiful part about revisiting those familiar steps is that although the journey may look slightly different, the process to get to where you are trying to go may still be the same.
Don't overthink, don't second guess. May this 4Q be your best yet.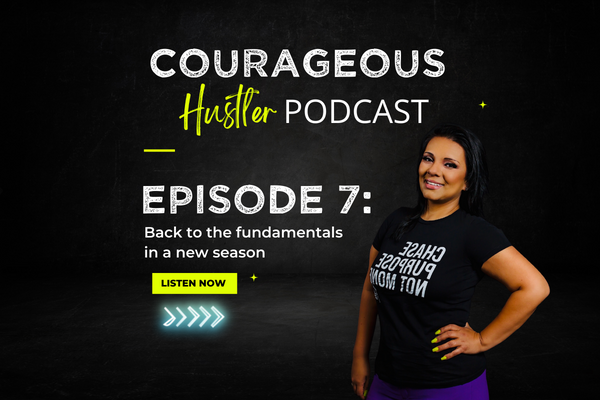 ---
SUBSCRIBE TO THE COURAGEOUS HUSTLER PODCAST ON YOUR FAVORITE PODCAST PLATFORM:
Apple: https://podcasts.apple.com/us/podcast/courageous-hustler-podcast/id1632968518
Podcast Addict: https://podcastaddict.com/podcast/4020878
Stitcher: https://www.stitcher.com/podcast/courageous-hustler-podcast
Listen Notes: https://www.listennotes.com/podcasts/courageous-hustler-podcast-sandra-ocasio-QB86bVxU1wa/
Podbean: https://courageoushustler.podbean.com/
iHeartRadio: https://www.iheart.com/podcast/338-courageous-hustler-podcast-99050230/
TuneIn: https://tunein.com/radio/Courageous-Hustler-Podcast-p1702419/
Amazon Music/Audible: https://music.amazon.com/podcasts/2a1d1177-cd11-4e2e-8480-564d6f03ddff
Deezer. Podcasters: https://deezer.com/show/3852427
FOLLOW US ON SOCIAL MEDIA:
Instagram: https://www.instagram.com/courageoushustler/
Twitter: https://twitter.com/hustler_podcast
Facebook Page: https://www.facebook.com/CourageousHustler
YouTube: https://www.youtube.com/channel/UC-elYGDBciQqSiFpxn2R_Jw
I do own rights to this music