cou·ra·geous /kəˈrājəs/ adjective: not deterred by danger or pain; brave.

hus·tler /ˈhəslər/ noun: an aggressively enterprising person; a go-getter.
In Today's Episode:
In today's episode I sit down with Keisha Bass, and really go deep on some of the stages that a marriage can go through. How to trust your partner. How to walk with faith not by fear.
Keisha Bass is the Founder and CEO of Her Dope Marriage. She's a Wife Coach, Mother, Entrepreneur, Author, and Motivational Speaker. She empowers female professionals and entrepreneurs of faith to walk through the different seasons of marriage with confidence using tangible strategies to enhance their marriage.
Keisha left Corporate America after about 22 years of working in IT. She followed her heart and God's instructions to coach women and couples.
Keisha sees hard moments in marriage as opportunities to trust God. The union between husband and wife is purposed by God to do great things together for His glory on Earth.
She's been married for over 32 years to her high school sweetheart, Chris. They have two adult children, Lakia and Chris.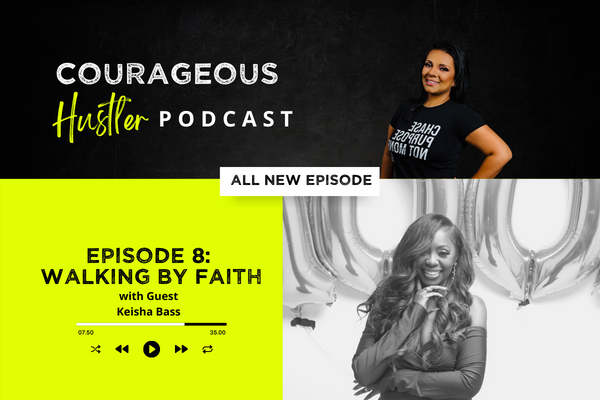 ---
FOLLOW TO FOLLOW KEISHA BASS:
On IG: https://www.instagram.com/her.dope.marriage/
On FB: http://www.facebook.com/groups/herdopemarriage/
Website: www.herdopemarriage.com
Check out her upcoming Women's Retreat, the LiftHer Experience
https://www.herdopemarriage.com/links
SUBSCRIBE TO THE COURAGEOUS HUSTLER PODCAST ON YOUR FAVORITE PODCAST PLATFORM:
Apple: https://podcasts.apple.com/us/podcast/courageous-hustler-podcast/id1632968518
Podcast Addict: https://podcastaddict.com/podcast/4020878
Stitcher: https://www.stitcher.com/podcast/courageous-hustler-podcast
Listen Notes: https://www.listennotes.com/podcasts/courageous-hustler-podcast-sandra-ocasio-QB86bVxU1wa/
Podbean: https://courageoushustler.podbean.com/
iHeartRadio: https://www.iheart.com/podcast/338-courageous-hustler-podcast-99050230/
TuneIn: https://tunein.com/radio/Courageous-Hustler-Podcast-p1702419/
Amazon Music/Audible: https://music.amazon.com/podcasts/2a1d1177-cd11-4e2e-8480-564d6f03ddff
Deezer. Podcasters: https://deezer.com/show/3852427
FOLLOW US ON SOCIAL MEDIA:
Instagram: https://www.instagram.com/courageoushustler/
Twitter: https://twitter.com/hustler_podcast
Facebook Page: https://www.facebook.com/CourageousHustler
YouTube: https://www.youtube.com/channel/UC-elYGDBciQqSiFpxn2R_Jw
I do own rights to this music